The DIY Guide for shooting Kirlian photographs with digital cameras and equipment.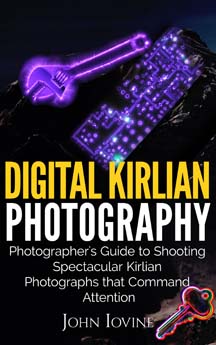 The book will instruct readers how to shoot Kirlian photographs using digital cameras, iPhones and low light video cameras. Whether you're a beginner or pro, you will find the instructional information to shoot brilliant Kirlian photographs.

The book will include step-by-step instructions for building a variety of DIY Kirlian photography devices and accessories.

The Kirlian devices also have the ability to shoot real time Kirlian video.
Fine Art prints for fun and profit. Sell the Kirlian images you create, print on canvas and other media like cups and tee shirts. Create one of a kind fine art prints you can sell on Etsy.








Kirlian Prints
Kirlian photography is a high voltage, contact print photography.
Limited Editions. Museum Quality Prints signed and numbered by the artist John Iovine. Print Run is limited to 300 per print.