Shoot Color Kirlian Video
The Kirlian Video Kit allows users to shoot real time kirlian videos of their subjects. Each kit includes a stand, a transparent dischare plate and a camera. There are two camera options. the KCAM-01 and the KCAM-02. Click here for more information on each model.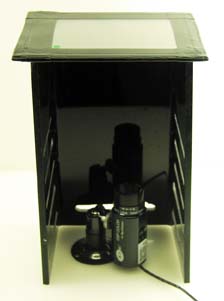 To take Kirlian video users are required to use of a transparent discharge plate. A transparent discharge plate is constructed from three main components; a 4" x 5" piece of glass that has a transparent conductive coating (typically tin oxide) on one side, see parts list, a transfer plate and connecting HV wire. The transparency of our transparent discharge plates surpasses 90 percent.
Video: Using the Transparent Discharge Plate
Video: Shooting Real Time Video

Transparent Plate Manual (pdf file 1 meg)


KVID-01 - $323.95
includes Kirlian Video Stand, Transparent Discharge Plate, and the KCAM-01 camera


KVID-02 - $449.95
includes Kirlian Video Stand, Transparent Discharge Plate, and the KCAM-02 camera