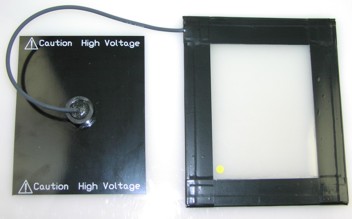 To take Kirlian photographs using a standard 35mm film camera, digital camera or video camera, requires the use of a transparent discharge plate. A transparent discharge plate is constructed from three main components; a 4" x 5" piece of glass that has a transparent conductive coating (typically tin oxide) on one side, see parts list, a transfer plate and connecting HV wire. The transparency of our transparent discharge plates surpasses 90 percent.
Video: Using the Transparent Discharge Plate
Video: Shooting Real Time Video

Transparent Plate Manual (pdf file 1 meg)


TDP-01 - $129.95
4" x 5" Transparent Discharge Plate for Camera
Approximate usable size: 3" x 4"
includes Ground Plate

TDP-02 - $149.95
5" x 7" Transparent Discharge Plate for Camera
Approximate usable size: 4" x 6"
includes Ground Plate


Transparent Discharge Plate Material 4x5 Sheet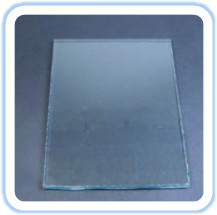 This piece of glass has a conductive tin oxide coating on one side. The tin oxide coating is so thin it is transparent. The glass is used to make a tranparent discharge plate that allows one to use a standard cameras, 35 MM, Digital and Video to shoot Kirlian photographs. Instructions for using and making a transparent can be found here.
TE-01 - $25.00
Transparent Electrode


Conductive Plastic Film
Conductive Plastic Film
27 ohms/sq, this highly conductive and flexible polyester film is Silver/Indium sputter coated for great conductivity. Nearly crystal-clear (greater than 80% light transmission!) and only 5 mil thick, it is easy to cut and tape into shapes Will withstand up to 80°C. 12" wide, sold by the foot. Specify length.


PLASTIC-01 - $29.95
Conductive Plastic Film


Foot Switch for the Kirlian Photography Device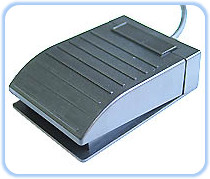 Handle Kirlian Photography Device With Ease and Comfort.
The Foot switch for the Kirlian Photography Device allows the photographer to have both hands free and concentrate on taking the the photograph while setting off the discharge with his or her foot.
Foot Switch - $14.95
Foot Switch for the Kirlian Photography Device


High Voltage Autotransformer (Car Ignition Coil)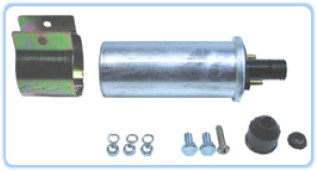 HVT-02B - $29.95
High Voltage Autotransformer


4"x5" Copper Board with 3/8" Etched Border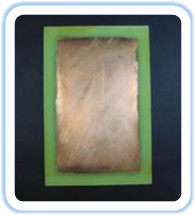 PCB-19 - $8.00
4"x5" Copper Board with 3/8" Etched Border

4"x6" Copper Clad Board (Single Sided)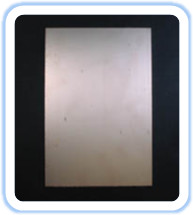 PCB-01 - $5.00
4"x6" Copper Clad Board (Single Sided)

5"x7" Transparent Plastic
TPS-01 - $1.00
5"x7" Transparent Plastic